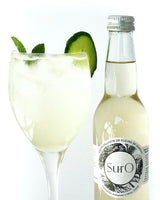 SurO is a home made, 100% natural and deliciously refreshing non-alcoholic drink that is also perfect as a cocktail mixer!
Buy now
Enjoy the taste of summer all year round
Serve cold over ice with a slice of cucumber and a sprig of mint for a perfect non-alcoholic drink. Add a splash of your favorite spirit to make a ginSurO or vodkaSurO, or add white rum and a good squeeze of lime to make a MojitoSurO. SurO can be mixed with most alcohols and even makes a delicious spritzer by adding white or rose wine.
A list of cocktail recipes will be posted soon. Sign up below to be the first to hear about them.
Sign up
So refreshing with ice and a slice of cucumber